Hyundai Commences its first-ever eco-friendly export operations via Railways to Nepal
13-01-2021 Wed 16:19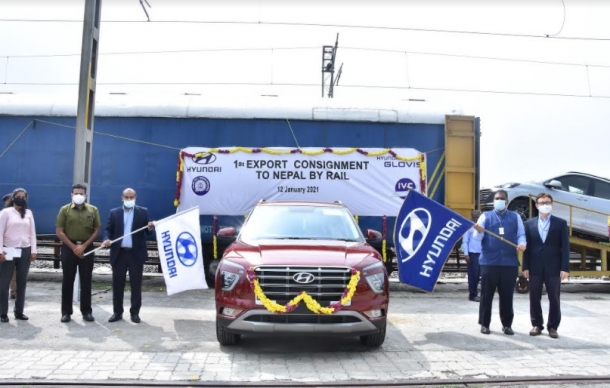 125 cars exported to Nepal through Railways from Walajabad Railway Hub near Irungattukkottai, Chennai
Eco-friendly step will help reduce Carbon footprint by 20 260 tons
Chennai, January 13, 2021: Hyundai Motor India Ltd. (HMIL), the country's First Smart Mobility Solutions provider and the largest exporter since inception, today announced the commencement of its first-ever eco-friendly Exports operations through railway mode, with the dispatch of the first consignment of 125 cars to Nepal.
The first export consignment was flagged-off by Mr. Ganesh Mani S, Director-Production, Hyundai Motor India Ltd, and Mr S Subramanian, Additional Divisional Railway Manager of Southern Railway, from the Walajabad Railway Hub near the Irungattukkottai-based HMIL Production facility outside Chennai. The train will reach the India-Nepal border at Nautanwa near the border town of Sonauli, from where the last-mile delivery will be through the roadways owing to the topography of Nepal. The overall on-road movement time is expected to reduce from 8 days to 5 days, bringing the cars faster and more eco-friendly manner to the customers.
Commenting on this latest initiative in the field of Outbound Logistics, Mr Ganesh Mani S, Director-Production, Hyundai Motor India Ltd said, "Hyundai is committed to eco-friendly initiatives. As a progressive OEM, all our production processes follow Green practices for conservation of natural resources. The zero-wastage of water and using over 70% of renewable energy in the HMI plant has set a benchmark in the industry. To further enhance our initiatives following global direction of 'Progress For Humanity', we have commenced our first-ever eco-friendly Exports operations through Railways by dispatching 125 cars in 25 rakes in this first consignment to Nepal, reducing Carbon footprint by 20 260 tons."
"Our innovative practices like using coastal shipment for domestic logistics of cars have already been appreciated by the authorities, and we send out over 14% of our Domestic Car volumes by the rail route instead of road. Our thanks to the Indian Railways for their unstinted support in such innovative practices which will have a long-lasting positive impact on the environment", Mr Mani further added.
As the country's largest exporter of automobiles sending Hyundai cars to over 88 countries, Hyundai surpassed the 3 Million vehicle export milestone earlier in 2020. Hyundai Motor India has recorded multiple export milestones over the years. It has crossed several Exports-related milestones in the journey, completing 5 lakh Export cars in March 2008, 10 lakh Exports in February 2010, 20 lakh cars in March 2014 and 30 lakh Cars in January 2020. Hyundai has also established several innovative practices in domestic logistics, using railways (over 14% of the volumes) and waterways to send cars across India from the Irungattukkottai-based production facility.
---
More Press Releases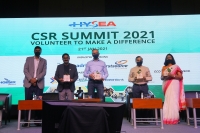 Summit included EXPO by NGOs, Conference & CSR Awards
9 minutes ago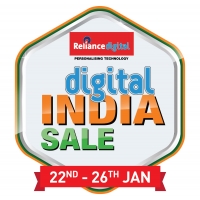 Reliance Digital - Digital India Sale
34 minutes ago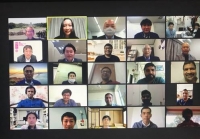 India- Japan Joint Research Program with IIT-Hyderabad
37 minutes ago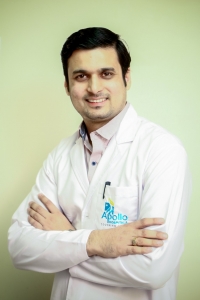 Early onset Cataract - Warning signs and causes
44 minutes ago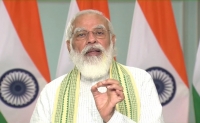 PM to interact with Beneficiaries and Vaccinators of Covid vaccination drive in Varanasi on 22nd January
4 hours ago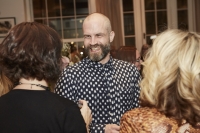 BAFTA Breakthrough India announces two week deadline extension, following surge of nationwide applications
5 hours ago
Bharat Road Network signs deal with CDPQ for the sale of a 67-kilometre road project in Odisha, India
5 hours ago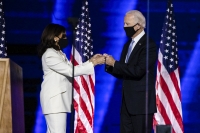 PM congratulates Joe Biden & Kamala Harris on assumption of office
9 hours ago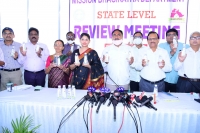 ప్ర‌భుత్వ కార్యాల‌యాలు, ప్ర‌జాప్ర‌తినిధులు మిష‌న్ భ‌గీర‌థ ప‌థ‌కం బాటిల్ నీటినే వాడాలి: మంత్రి ఎర్రబెల్లి విజ్ఞప్తి
23 hours ago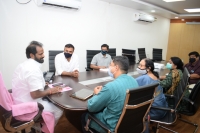 సురవరం ప్రతాప రెడ్డి 125వ జయంతి ఉత్సవాలను ఘనంగా నిర్వహించాలి.. అధికారులకు మంత్రి శ్రీనివాస్ గౌడ్ ఆదేశం!
1 day ago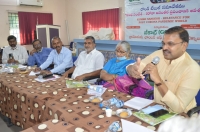 A Roundtable on Kumbh Sandesh
1 day ago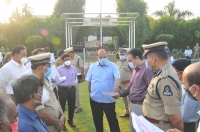 Telangana CS visits Public Gardens
1 day ago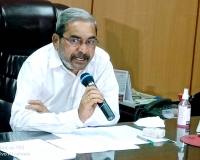 ఇప్పటివరకు 1927 మంది జర్నలిస్టులకు ఆర్థిక సహాయం అందించాం: అల్లం నారాయణ
1 day ago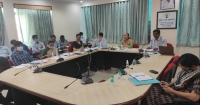 క్షేత్ర స్థాయిలో బాగా పనిచేసే సిబ్బందికి అవార్డుల ద్వారా ప్రోత్సాహం: తెలంగాణ అటవీ శాఖ
1 day ago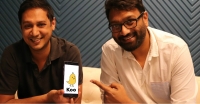 PM Narendra Modi Encourages India to use Koo App
1 day ago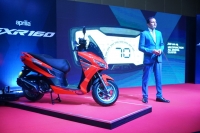 Piaggio launches the Aprilia SXR 160 in Hyderabad
1 day ago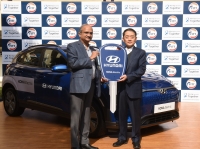 Hyundai Motor India Foundation Signs MoU with Foundation for Innovation and Technology Transfer
1 day ago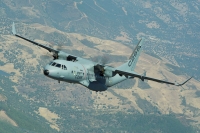 Airbus prepares for a strong presence at 'Aero India 2021'
1 day ago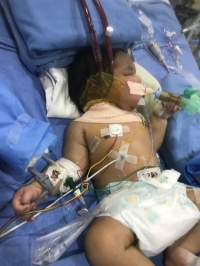 ECMO saves life of a one-day-old baby
1 day ago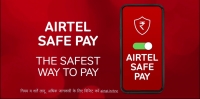 Launch of 'Airtel Safe Pay' - India's safest way to pay digitally
1 day ago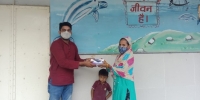 Teach For India's 'Don't Stop Learning' campaign aims to make digital learning more accessible to Teach For India students
1 day ago
Unlucky Hyderabad settle for a point against Odisha FC
1 day ago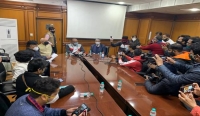 Supreme Court appointed panel holds first meeting on farm laws in New Delhi
1 day ago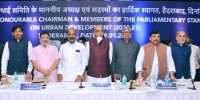 పట్టణాభివృద్ధిపై పార్లమెంటరీ కమిటీ సమావేశం
2 days ago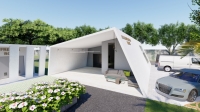 గ్రేటర్ లో ఆహ్లాదభరితంగా శ్మశానవాటికల అభివృద్ది
2 days ago