Godavari Flows to Austin on its Anniversary
17-06-2016 Fri 19:55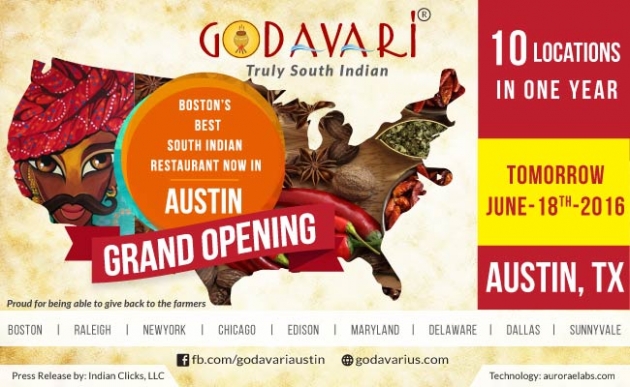 Austin, TX, USA, June 17th 2016: (Press Note) Godavari Restaurant Chain - The fastest growing South Indian food chain Opens its 10th Franchise Location by stepping into Austin, TX on the eve of its 01st Anniversary.
The Restaurant chain that began its journey last year in Boston serving authentic south Indian food is all set to expand to Austin and San Antonio while launching Godavari Foundation in AP and Telangana.
Godavari restaurant chain, the fastest growing South Indian food giant in America now sets its foot into Austin this weekend. The more special occasion will be the anniversary of the exciting chain that has already been alluring food lovers in nine locations of the United States for a year. The Austin restaurant will be the tenth of the group as well as the second in the state of Texas.
Godavari Austin is strategically located just a few miles away from the corporate offices such as Apple Inc, Dell Inc, Oracle and many more. "TEAM" Godavari is coming up with a unique concept for the grand launch with Mega buffet called as "Pancha Kattu" Lunch Buffet. Those serving food will be dressed in authentic Pancha and Langa Voni, the cultural symbols of south India.
Godavari will serve the buffets with brand new authentic recipes which were sent by the grandmothers from across AP, Telangana and Tamil Nadu. Some of the varieties include "Bheemavaram Bonda, "Kinnerasani Appadam Bajji", "Mangamma gari Mamsam Pappucharu", "Avakai Koramenu Pulusu", "Rayudu Gari Raagi Sankati", "Naatu Kodi Guddu Pulao" and many more for the first time in the US.
Godavari Austin is also coming up with a special food truck named "Godavari Express" to serve the party crowd in Sixth Street in Austin and also serve at live caterings in Austin and San Antonio area.
Speaking on the occasion, Mr.Teja Chekuri, Co-founder of Godavari Group expressed happiness at the growing footprint as well as the patronage for Godavari. "The Austin restaurant is our second in Texas and is expected to tickle the taste buds of the large Indian diaspora. It is also the anniversary location and truly reflects our journey that began in Boston".
Koushik Koganti, was awarded the prestigious young alumni achiever award by Vellore Institute of Technology (VIT) and his inspiring speech received a huge applause from the Alumni. Here is the video of his speech.
https://www.youtube.com/watch?v=WUd83xKvoHw
Venu Peddu, Srinivas Gondi & Rajsekhar Reddy Pasham, from Godavari, Austin Franchise said "We are now gearing up to open our new location in San Antonio in the coming months to serve the huge Indian community, and happy to be a part of Godavari family and also have been a part of "TEAM" Godavari since the beginning.
Godavari had a huge celebrity visits during the last months in Dallas, Boston, Chicago and the film personalities were mesmerized by the authentic dishes that Godavari is serving across the US.
Godavari also served a huge gathering of "Telangana Association of North America" (TENA) in Boston very recently and received compliments from the guests.
"Godavari Foundation" is going to be inaugurated in the states of Telangana and Andhra Pradesh to be driven by a young and dynamic team.
"Godavari's huge success in this short time should be attributed to the young and dynamic team that wants to show the power of incredible Indian food across the globe," said, the franchise owners of Godavari Austin.
We TRUST our Legacy Continues in Austin and San Antonio areas.
We would invite every food lover to taste our authentic recipes.
Looking forward to serve you at:
GODAVARI AUSTIN
1779 WELLS BRANCH PKWY
AUSTIN, TX - 78728
Ph: 512-903-0638
Thanks again…. Hope you all avail and enjoy our services.
CONTACT:
MR. VENU MADHAV PEDDU
PH: 269-779-5889
Press note released by: Indian Clicks, LLC
---
More Articles

Joint life insurance policy for couple...how beneficial?
2 years ago

Are you using the right charger for your phone? Check out
2 years ago

Shoot amazing videos with mobile phone
2 years ago

How to delete, block emails in Gmail?
2 years ago

Are your eyes healthy? Identify eye problems this way
2 years ago

Government services at your fingertips with these apps
2 years ago

Ways to increase height: Any options?
3 years ago

Life after death…what organs can be donated…give life to how many?
3 years ago

Phones costlier than Apple iPhone
3 years ago

Hyderabad Metro Rail halts..facilities in stations
3 years ago

Green peas curry...tasty for chapattis, paratas
3 years ago

Age for insurance cover. Need it for 100 years?
3 years ago

Shares that will go up in 2018; recommended by brokers
3 years ago

These are New Year resolutions of celebrities...what about us?
3 years ago

LIC policy that protects you from cancer... less premium, more protection
3 years ago

What do kids like... what they don't?
3 years ago

Lens resolution and not pixels make the difference in camera...unknown facts
3 years ago

What is the truth about North Korea?
3 years ago

Open zero balance account in any bank
3 years ago

Separate test for each health problem... what is known in which test?
3 years ago

Do this to increase life of phone battery, backup
3 years ago

New scooters that will arrive at your doorstep soon
3 years ago

Health insurance from banks... less premium...how worthy?
3 years ago

Has your smart phone slowed down? Here are tips to speed it up
3 years ago

Dental plaque formation, causes and care
3 years ago

Cholesterol is good...But when is it bad?
3 years ago

Make tasty panipuri at home
3 years ago

P2P platforms help easy lending, borrowing
3 years ago

Why Apple iPhone is expensive? Want it for less price?
3 years ago

Tips to cool down your heated smart phone
3 years ago

Which is better...own or rented house?
3 years ago

App that listens and types in Telugu
3 years ago

Jaundice could be dangerous if neglected
3 years ago

Sponge cake in a jiffy...no oven...with and without eggs
3 years ago

What happens when you don't repay loans
3 years ago

Yogurt, curd, dessert, paneer, cheese...what's the difference?
3 years ago

IT dept. eagle eye on bank deposits... what to do?
3 years ago

Google Tej app...transfer funds in a jiffy
3 years ago

Truths about money, you must know
3 years ago

Huge benefits with Multani Mitti
3 years ago