Dry fruits add luster to your beauty!
12-05-2016 Thu 11:49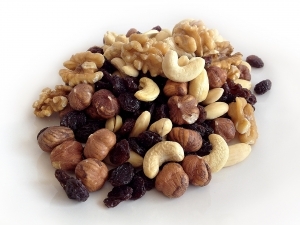 People generally do not know about the benefits of dry fruits. Only a few persons know that these food items play a key role in giving beauty to us. In this article, we will give you some tips from beauty and nutrition experts.
Almonds
Fatty acid, proteins and fibre are rich in almonds. Almonds play a key role in getting rid of pimples. One can get good results if one can do face pack with almonds. Soak powdered almonds in water for some time, add milk to it and place it in mixer and then apply it to your face. It removes dead cells and cleanses0 it. After this, luster can be seen in your face. Hair looks shining and beautiful by applying almond oil to it.
Dry grapes
Eating a few dry grapes daily helps keep your eyes healthy. These are also helpful for good health of teeth. Vitamin A is rich in dry grapes. Every one knows that Vitamin A helps for better eyes. As dry grapes contain the antioxidant resveratrol, these are helpful for the good health of skin too. Experts advise that taking dry grapes prevents skin folds.
Walnuts
These are also called akhrots. Walnuts may not be tasty. But they have good nutritional values and help for our health a lot. Omega fatty 3 acids are rich in walnuts. They provide some nutrients to dry skin and keep it healthy. The mixture of some akhrots and three tablespoons curd can be used as a soap and apply it on your face. Linoleic acid in akhrots prevents folds and lines on your skin. The akhrots are also good for your brain. Omega acids help keep your heart healthy.
Cashew
Eating cashew in a small quantity is helpful for your health. One can eat cashew daily and lose weight. The cashew oil is used in some beauty products too. It corrects sun tanned skin and leg cramps too. The Vitamin E in cashew prevents ageing effects on skin. Cashew is helpful in controlling cholesterol, blood sugar and high BP. This dry fruit is also helpful for those who are suffering from migraine pain.
Pistachio
Nutritional values are rich in pistachio. Vitamin E is widely available in this kind of dry fruits. Pistachio gives protection to your skin from ultraviolet rays. Rare nutritional values like carotenoids,Lutein and zeaxanthin are available in Pistachio. The antioxidants in this item prevents skin folding and cancer too. These are also helpful for good digestion and controlling BP. Eating these items keeps you away from heart diseases.
---
More Articles

Joint life insurance policy for couple...how beneficial?
2 years ago

Are you using the right charger for your phone? Check out
2 years ago

Shoot amazing videos with mobile phone
2 years ago

How to delete, block emails in Gmail?
2 years ago

Are your eyes healthy? Identify eye problems this way
2 years ago

Government services at your fingertips with these apps
2 years ago

Ways to increase height: Any options?
3 years ago

Life after death…what organs can be donated…give life to how many?
3 years ago

Phones costlier than Apple iPhone
3 years ago

Hyderabad Metro Rail halts..facilities in stations
3 years ago

Green peas curry...tasty for chapattis, paratas
3 years ago

Age for insurance cover. Need it for 100 years?
3 years ago

Shares that will go up in 2018; recommended by brokers
3 years ago

These are New Year resolutions of celebrities...what about us?
3 years ago

LIC policy that protects you from cancer... less premium, more protection
3 years ago

What do kids like... what they don't?
3 years ago

Lens resolution and not pixels make the difference in camera...unknown facts
3 years ago

What is the truth about North Korea?
3 years ago

Open zero balance account in any bank
3 years ago

Separate test for each health problem... what is known in which test?
3 years ago

Do this to increase life of phone battery, backup
3 years ago

New scooters that will arrive at your doorstep soon
3 years ago

Health insurance from banks... less premium...how worthy?
3 years ago

Has your smart phone slowed down? Here are tips to speed it up
3 years ago

Dental plaque formation, causes and care
3 years ago

Cholesterol is good...But when is it bad?
3 years ago

Make tasty panipuri at home
3 years ago

P2P platforms help easy lending, borrowing
3 years ago

Why Apple iPhone is expensive? Want it for less price?
3 years ago

Tips to cool down your heated smart phone
3 years ago

Which is better...own or rented house?
3 years ago

App that listens and types in Telugu
3 years ago

Jaundice could be dangerous if neglected
3 years ago

Sponge cake in a jiffy...no oven...with and without eggs
3 years ago

What happens when you don't repay loans
3 years ago

Yogurt, curd, dessert, paneer, cheese...what's the difference?
3 years ago

IT dept. eagle eye on bank deposits... what to do?
3 years ago

Google Tej app...transfer funds in a jiffy
3 years ago

Truths about money, you must know
3 years ago

Huge benefits with Multani Mitti
3 years ago